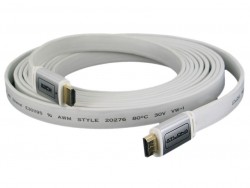 Atlona HDMI 1.4 50FT (15.2m)

,

Cáp HDMI chuẩn dẹt chuẩn 1.4 tốc độ 10Gbps có hỗ trợ 3D - 15.2m màu trắng
Mã sản phẩm: | 435 lượt xem
Xuất xứ: -
Bảo hành: Liên hệ
Atlona HDMI 1.4 50FT (15.2m)
NEW Atlona Flat High Speed HDMI cables with Ethernet are designed to provide the highest quality in High Definition Video and Digital Audio transfer.  Simply the best cables you can get.

The Atlona Flat High Speed HDMI cables with Ethernet are unlike any cable you will find on the market. Supporting transfer rates beyond 10.2 Gbps at resolutions 4 times higher than standard 1080p (up to 4096 x 2160), this cable is designed to surpass all current standards of HDMI. Experience stunning colors, Dolby TrueHD & DTS-HD Master Audio and 100 Mb/sec Ethernet through our premium cables and you'll understand just how much you've been missing. Our unique flat design allows us to spread our oxygen free copper conductors farther apart than archaic round cable designs, which helps us reduce cross-talk even at bit transfer rates up to 387Mhz.  In the world of HD cables, no one can compete with Atlona quality. These cables have been certified for the latest HDMI specification, and cables above 15 feet are UL CL3 rated for in wall use and RoHS.
Applications:
Primarily used to connect BluRay & DVD players, HD satellite & cable boxes, LCDs, projectors, Plasma displays, HDTV's and much more. Perfect for running the cable along the wall, under the rug or even inside the wall. Atlona Flat HDMI cables are paintable and therefore can match the color of the wall and be almost invisible.
Features:
HDMI High Speed Cable with Ethernet
Atlona Flat HDMI Cables are able to support extremely high resolutions much beyond standard 1080p or 1440p. Future proof for resolutions up to 4K or 4096x2160
Supports Video Bandwidth above latest HDMI Standards 387MHz (far beyond 10.2 Gbps)
Ethernet Data Channel allows devices to share a high speed network connection and internet connectivity without a separate ethernet cable
Designed to support TV's with high refresh rates (up to 800MHz)
Due to high bandwidth video support, this cable is fully able to transfer 3D content. Experience true 3D movies from newer 3D enabled BluRay players

Audio Return Channel

will allow the user to eliminate excess cables which are connecting the TV and audio receiver to single a HDMI cable
Supports all digital audio formats including Dolby TrueHD and DTS-HD Master Audio
Flat Technology allows longer cable lengths because of the lower cross talk
Specs:
6 ft. Flat HDMI Cable construction
Dual-link bandwidth: 387 MHz (over 10.2 Gbps)
Separate Ethernet Data Channel which will allow high speed send/receive (up to 100 Mb/sec)

Audio Return Channel

Fully 3D compatible for future use
Supports 2K (2048x1556) and 4K (4096x2160) resolutions
24k Gold plated connectors ensures no signal loss
High-Purity Oxygen Free Copper conductors
High-Density triple shielding for maximum rejection of EMI and RFI
Ultra Flexible
RoHS Rated
HDCP Pass-through
UL CL3 certified - to be used for in-wall applications (for cables longer than 15 ft. only)
Black color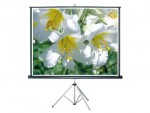 Tác giả: admin

- Cập nhật: 14-03-2014, 4:46 pm
Hiện nay nhu cầu sử dụng các thiết bị trình chiếu để phục vụ cho hội nghị, giải trí, lễ hội….. càng ngày càng trở nên phổ biến và cần thiết